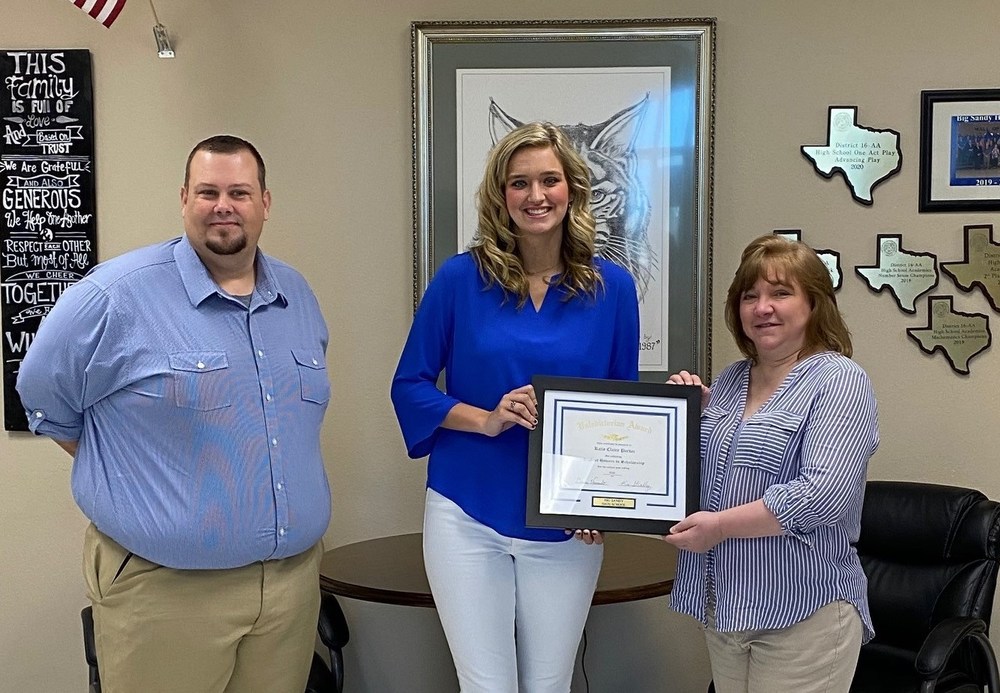 Valedictorian for the graduating Class of 2020.
Moriah Phillips
Wednesday, May 20, 2020
Big Sandy ISD proudly introduces its valedictorian for the graduating Class of 2020.

Valedictorian: Katie Claire Parker
Katie graduates with a GPA of 4.18. She is the daughter of Christy Stephenson and Kevin Parker. Katie will be attending the University of Arkansas and majoring in criminology with a minor in US History. During her summers in college she plans to continue her internship with the Upshur County District Attorney, Billy Byrd. She plans to later attend law school and become a district attorney or criminal investigator.
Katie was very active throughout her high school career in many different extracurricular activities. These activities included Student Council President, Class Officer 3 years, National Honor Society Secretary 2 years, Varsity Cheerleader 4 years, Fellowship of Christian Athletes 4 years, UIL 4 years and regional qualifier in current events, UIL One Act Play 3 years, UIL District Best Actress 2019, UIL All Star Cast 2 years, Theatre Fall Show 4 years, Basketball 2 years, Spanish Club, Prom Committee, Baseball Statistician 4 years, Boy's Basketball Manager 2 years. Her studies included Honors/AP courses in Algebra, World Geography, English, Chemistry, Geometry, US History, Physics, Spanish 3, and Calculus AB. Her Dual Credit Courses include English 1301 and 1302, Speech 1315, and Government 1305. Katie also received many academic awards during her time at Big Sandy.
Katie's community involvement includes her year as Miss Big Sandy where she represented the city at the East Texas Yamboree, Community Easter Egg Hunt, Fourth of July Festivities and Parade, ribbon cuttings, Christmas Parade, and reading to elementary students. As Student Council President, she served at the elementary glove drive, community blood drives, delivering cards to a veterans' home and volunteering at International Refuge. With the National Honor Society she served by writing cards to people in the military and volunteering at Newgate Mission in Longview. Katie is very thankful to the community and school of Big Sandy, for helping her get to where she is today and she looks forward to the future.