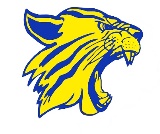 My name is Andrea Blavier. I joined the Wildcat Family faculty in 2002 as a 2nd grade teacher. Throughout my career at Big Sandy I have proudly served as a classroom teacher, ESL teacher, GT teacher, Special Programs and Test coordinator, Assistant Principal, and Principal. My passion has always been in elementary education. It is my ultimate goal to provide our students, their families, and the community positive learning experiences. As a Big Sandy High School graduate, I desire for others to experience how great it is to be a WILDCAT!
PRINCIPAL'S MESSAGE
Wildcat Families,
I am so excited to welcome you to Big Sandy Elementary. We are committed to providing a safe, secure and nurturing learning environment. Our hope is that every student that enters our building will know that they matter and are loved. We will strive, as a staff, to meet the needs of each individual student.
We are setting our standards high for academic success while molding future productive members of society. Parents are vital in the achievement and success of their students. You are your child's most important teacher. It is impossible without your help. We invite you to be partners with us in your child's education. Parents can help by spending time with their student, encouraging consistent daily attendance and supporting completion of classwork, homework, and goals. We also want to encourage you to get involved. Throughout the year, exciting things will be happening at our campus. We hope you will join our PTO, attend parent meetings, and volunteer when possible in school activities.
We are so glad that you are at Big Sandy. School begins promptly at 8:00 am. Breakfast is served from 7:30-7:55 every morning. My team and I look forward to working with your child each day. Thank you for sharing them with us. If you have any questions or concerns, please feel free to contact your child's teacher or the office at 903-636-5287.
Andrea Blavier
Principal