This afternoon (October 2nd) and Thursday afternoon (October 5th), we are adjusting our afternoon bus routes. Mrs. Tina's Bus 103 and Mrs. Strickland's 104 will be combined.

For today only, we are making an adjustment to our afternoon bus routes. Mrs. Tina's Bus 103 and Mrs. Strickland's 104 will be combined. Our routes will go back to normal starting again on Monday.

Starting tomorrow morning (September 19), Bus Route 103 is now being split in two routes. Route 103 will still be driven by Ms. Tina and will travel on 1002, 1795, Catalan, Cypress, Sassafras, White Dogwood, Silver Maple and Wimberly. Mr. Strickland will be driving Route 104, which will include 155, Lemon, Aspen, Red Cedar, Peach, Red Maple, Boyd and Sycamore. Both routes will start picking students up at 6:30 in the morning and will allow our students to get home after school sooner. When the district is short a bus driver, we will go back to Ms. Tina driving both routes. We will announce as soon as possible on those days.

Only the Junior High is playing tomorrow evening against Linden Kildare. The game will start at 5:30 in Big Sandy. Go Wildcats!

Parents, If you have a parent portal account you can login and get your child's STAAR/EOC scores. If you have not set up a parent portal account, a letter is going home with your child today that will give you important information. Please set up your parent portal account through Ascender. The link is provided at the bottom of this post. New students, your scores will be available this Friday, August 25th through the parent portal. Please use this link to Ascender Parent Portal to gain access to your child's STAAR/EOC scores. If you do not have an account set up you will be able to do so through this link as well. You can also gain access to this link through our website/more/parents/access grades.
https://portals07.ascendertx.com/ParentPortal/login?distid=230901
Once you've set up your parent portal account and have any questions, please call your child's campus office. Thank you.

Please see the attached image regarding Bus 106 tomorrow. We are working to add new bus drivers and hope that this solution to our shortage will not last the entire year. Thanks!

Hello Big Sandy Family: Big Sandy Registration is getting ready to begin. All students may start picking up their registration packets from July 24th through the 27th. Secondary students returning to the district may come to campus on August 8th from 5:00 to 7:00 pm for returning student registration. On August 9th, from 9:00 am until 11:30 am, all returning Junior High Students may register on campus in the cafeteria. From 1:00 pm until 3:30 pm, all High School Students may register on campus in the cafeteria. Starting on August 1st, any NEW students to the district may pick up a registration packet in the office during regular business hours. Elementary Students, both returning and new, can come pick up a registration packet starting today, Monday through Thursday from 8:00 am until 4:00 pm.

Hi Big Sandy! The start of the year is just around the corner. Show your school pride when football, volleyball and cross country start by getting some new gear at the Big Sandy online store. We can't wait to start the new year!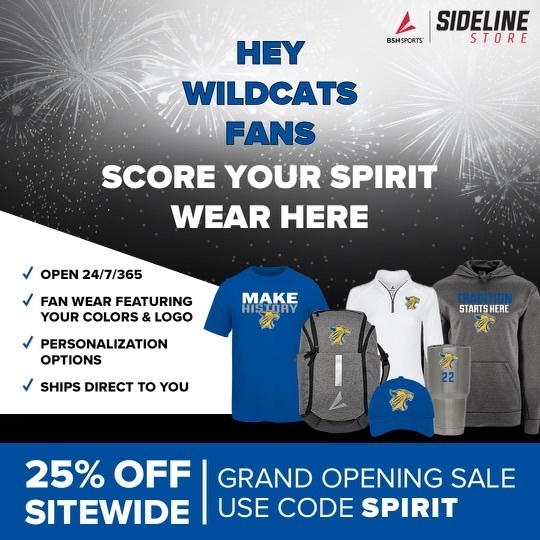 This Saturday is the Boots the Tumor Auction for Mr. V. All proceeds will go to Mr. V to help with all of his expenses.

Hello Big Sandy Family, The power has been restored to Big Sandy ISD. Summer School and Summer Workouts are scheduled to resume tomorrow morning. The Big Sandy Business Office is still without power and those employees will be working from home. Summer workouts will end early tomorrow around 10:00 am and will take place outside. Plenty of water will be provided for the student-athletes.

Hi Big Sandy ISD. The power remains out in all Big Sandy ISD Buildings. Therefore, all school activities including summer school are canceled for tomorrow. We are continuing to monitor the situation and will make another announcement tomorrow afternoon about Wednesday. Please continue to be safe and stay cool.
Summer Feeding Information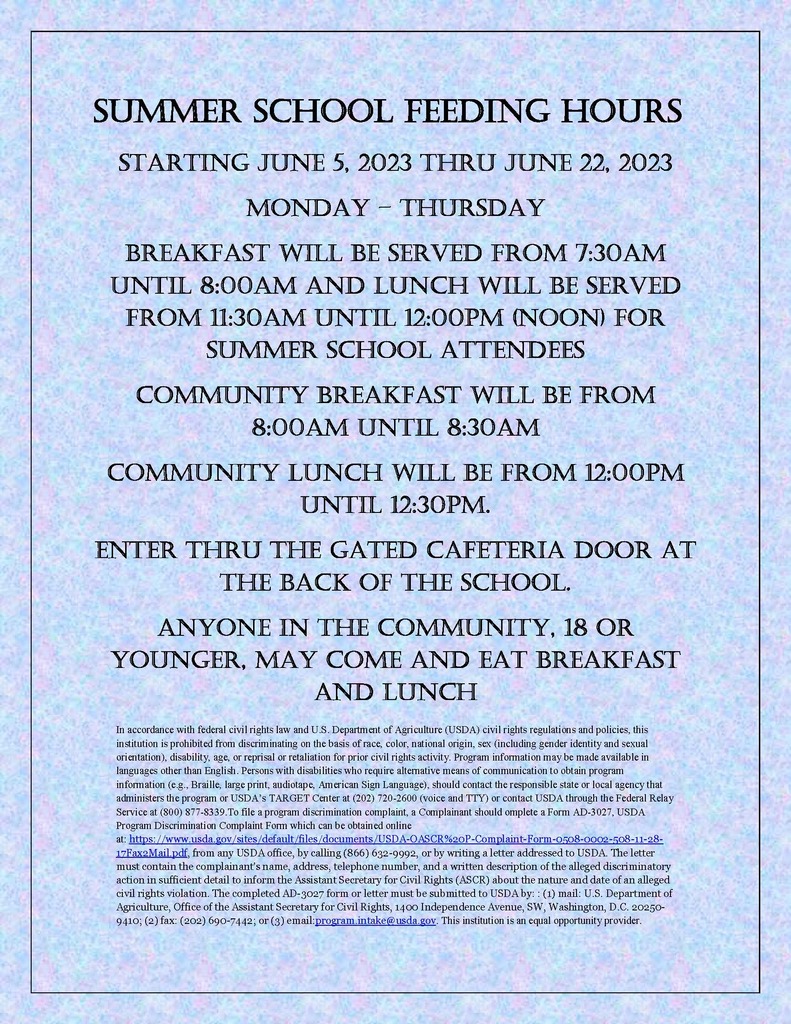 This morning, a district employee and several students were returning to campus in a school vehicle when the employee had a medical emergency. The school vehicle was able to get to the side of the road and there were no injuries to anyone involved. Thank you to local first responders and our students for remaining calm. The students have returned to campus and the employee in stable condition and will be okay.
2023-2024 Big Sandy ISD School Calendar.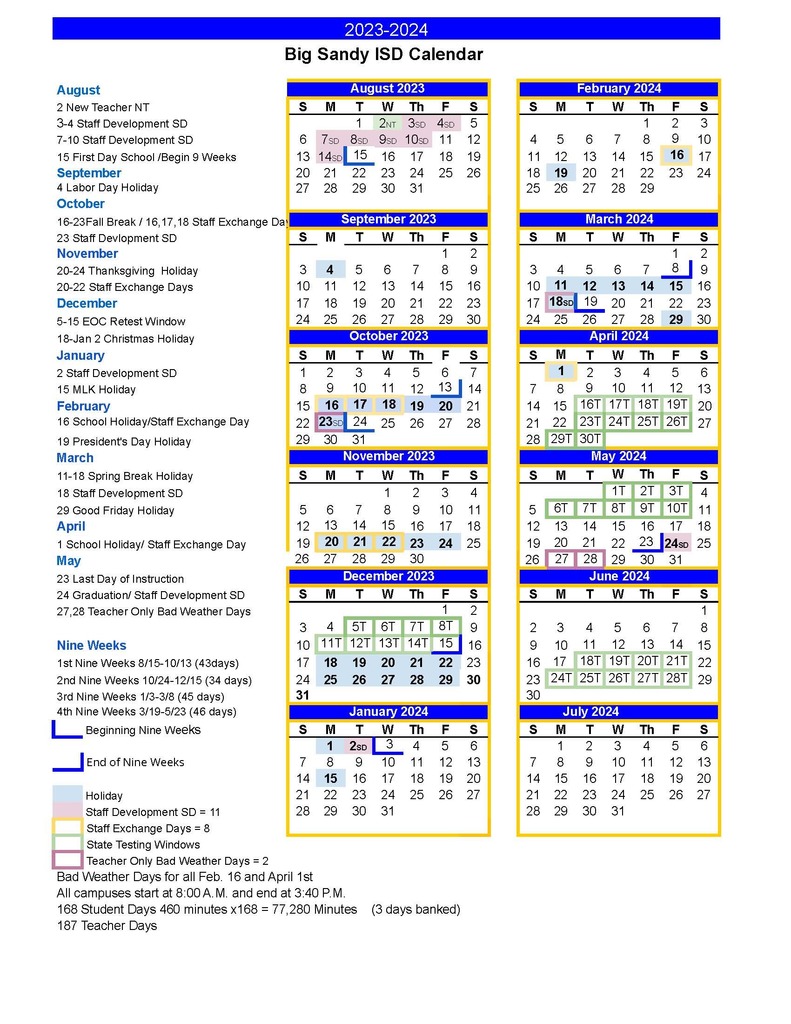 Unofficial results from the May 6 School Board Election: Jamey Childress - 110 Votes Mary Gorman Lingle - 100 Votes Josh Sheeley - 58 Votes
There will be a vaccination clinic being held on campus May 23rd at 10 am-12 pm. This is for any Pre-K, Kindergarten, 6th grade, and senior students needing vaccines. This is the last vaccination clinic before next school year, so please take advantage of it. Remember these are required vaccinations to have to be able to attend school. The flyer lists each vaccine that they will offer. Please sign up online, or turn in all paperwork to Nurse Padilla before the deadline. Sign up link -
https://form.jotform.com/auroraconcepts/student-vaccine-consent?School=Big
Sandy%20ISD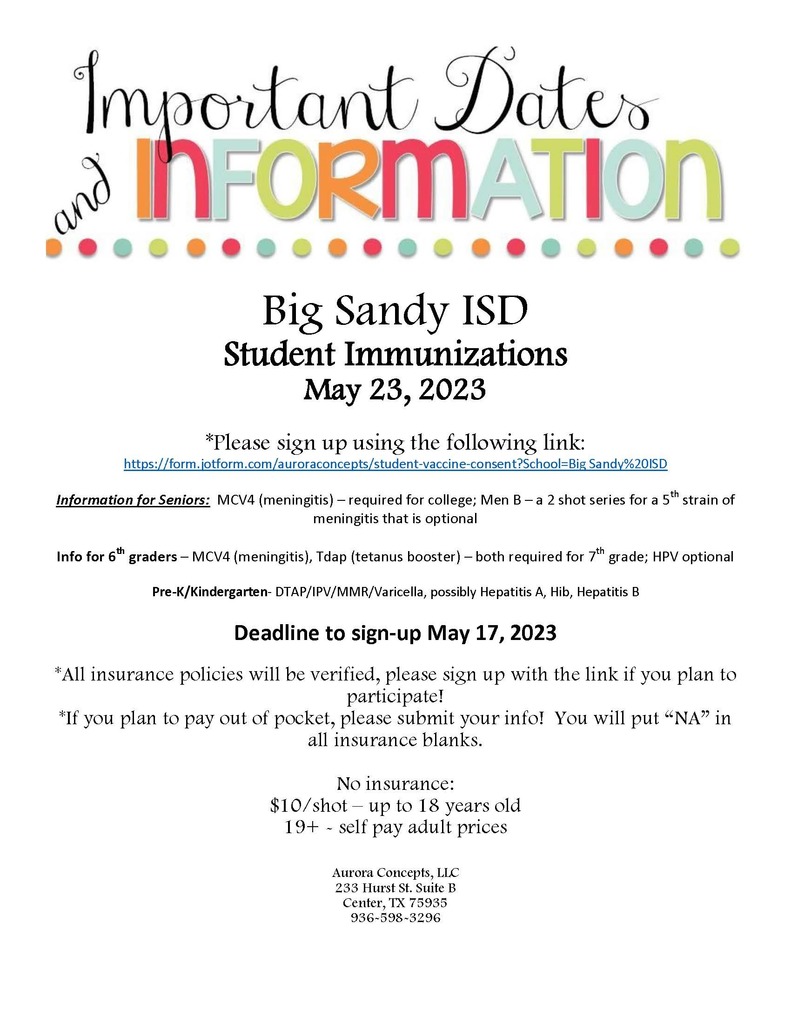 Good Luck to the UIL Spelling Team at Regionals tomorrow. Safe travels to Panola College.
Elementary class picture day will be Wednesday, April 26.

Early Voting for School Board Election starts Monday, April 24th at 8:00 am at the Big Sandy ISD Administration office at 102 E. Gilmer Street. See the picture below for more information.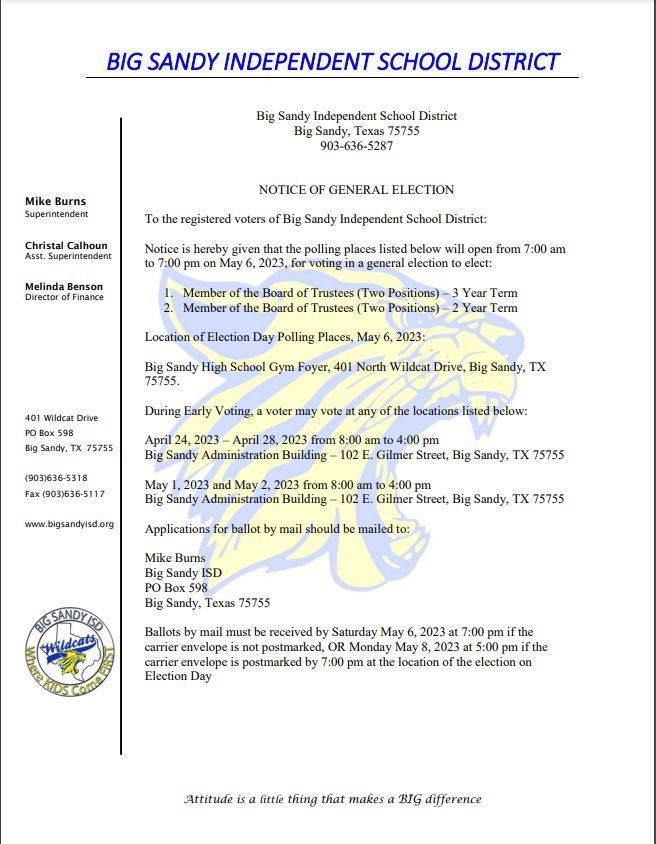 Hello Big Sandy Family. Due to a shortage of bus drivers Monday morning, Bus 100 will be running about 40 minutes later than usual. Students on this bus will be dropped off at school no later than 8:15 am. Students will not be marked tardy or absent and if they still need to eat breakfast, the will be given the opportunity to do so. Thanks for your patience.