ATTENTION: 2 hour delay due to no power at the school. Stay tuned for further information. Buses will run 2 hours late. School will begin at 10:00 am today, Friday, November 9, 2018. Go Wildcats!

Cushing ISD just contacted us and has cancelled the JH Football game for this evening, due to rain and inclement weather!

Our internet is down today! If you have reached out to anyone in the district via email today and not received a response, this is why. Go Wildcats!

Attention Big Sandy Parents and Community: Due to incoming inclement weather and deteriorating weather conditions, the Big Sandy ISD has CANCELLED all after-school activities for today, Wednesday, October 31, 2018. These after-school include: 1. practices, 2. performances, and/or 3. classroom tutorials. Stay safe Wildcats!

Big Sandy Alumni Cake and Coffee tonight after the Homecoming Football Game. We will head to the School Cafeteria right after the game. We have cake and coffee for those current and and former students and families that want to catch up and visit for a while. Please enter the cafeteria through the iron gated area at the back of the school. Go Wildcat Alumni!

JH Football plays at 5:30 pm in Hawkins, tonight! Come out and support our JH Football Wildcats!

Bonfire and Pep Rally still on at 7:00 pm, starting in the Main Gym! Come grab a free hot dog and get loud! Go Wildcats!

Hear ye, Hear ye: Jacob allen QUALIFIED FOR THE STATE CROSS COUNTRY MEET! All of our kids ran well today and we are proud of each and every one of them! They are: Tori Hill Jacob Allen Sergio Rosales Decorian Menefee Dakaria Menefee Hunter Sharp David Fonteno Go Wildcats!

Join me in wishing good luck to all of our Cross Country Regional Meet Runners today! We are so proud of each one of our kids that are in the Regional Cross Country Meet! Tori Hill Jacob Allen Sergio Rosales Dakaria Menefee Dacorian Menefee Hunter Sharp David Fonteno Go Wildcats!

Wow! What a week at Yamboree for the Big Sandy Wildcats! It seemed that every time you turned around, a float, a concession stand, or a student from Big Sandy ISD was winning! We are so proud of Mrs. Shirly Brisby and the girls that helped to decorate the float for the School Parade! The float was awarded FIRST PLACE! Also, the Big Sandy Concession Stand on the square was awarded BEST DESSERT for the 2nd year in a row, with their Deluxe Hot Chocolate! Also, that Wildcat Band capped off a stellar week, by earning FIRST DIVISION BAND and FIRST DIVISION DRUM MAJOR at the Yamboree Marching Contest! That was after earning a STRAIGHT 1's at the UIL MARCHING CONTEST on Tuesday of last week! That same night, the Ladcats sealed up the DISTRICT CHAMPIONSHIP in Volleyball! Then, on Thursday night, the Wildcats pummelled the Union Grove Lions with a score of 51-6! The following is a list of the many, many awards earned by our FFA and Ag students: Goats Grand Champion-Miranda Collier Sr Showmanship-Victoria Hill Gabby Beason 1st in class (made sale) Jacob Allen-3rd in class Zach Duhart-3rd in class (made sale) Victoria Hill-2nd in class Jaxson Croley-1st in class (made sale) Maci Childress-1st in class (made sale) Maddie Freeman-2nd in class (made sale) Madi Hill-3rd in class (made sale) Rabbits Grand Champion-Victoria Hill Reserve Champion-Cheyenne Flores Lorin Drennan-28th overall Swine Lane Carlson-4th and 5th in 2 separate classes (made sale) Canyon Minter-4th in class (made sale) James Briscoe-8th and 9th in class Broilers Grand Champion-Natasha Shaw Triston Wilson-25th (made sale) Shop Projects Reserve Champion-Farm Equipment class Zachary Gregory w/ a 55 gallon yard sprayer, He also received a blue ribbon for his outdoor bench James Briscoe-4th w/ Floating Shelf and 4th w/ deer feeder and received a blue ribbon for his 2nd floating shelf Triston Wilson-3rd in class with a 12' dovetail bumper pull trailer Lane Carlson-4th in class with a 18' equipment trailer Taylor Plaisance received a blue ribbon for her doghouse Gabby Beason received a blue ribbon for her horseshoe outdoor table All of the Sophomores who constructed picnic tables in their 1st ag mech class received blue ribbons Ashton Beason received a blue ribbon for his outdoor table David Brown received a blue ribbon for his outdoor table Kaden Dunn received a blue ribbon for his picnic table Zach McDade received a blue ribbon for his picnic table Clayton Shelton and Dylan Budynkiewicz received a blue ribbon for their hog trap Waylon Burkett received a blue ribbon for his grill Khameron Pippins received a red ribbon for his yard swing On top of all of our success, our grand and reserve champion students were interviewed by Pigskin Bob and were on the air advocating for our chapter and Big Sandy overall. Big Sandy ISD is so proud of all the hard work by our kids, parents, coaches, and sponsors! Big Sandy made a huge statement this past week! As one parent commented on a recent Facebook update, "We are a force to be reckoned with!" I could not have said it better myself! Go Wildcats!

Hear ye, Hear ye: Varsity Game is TONIGHT, however the pep rally IS STILL ON FOR TOMORROW!!!!! Plan to dress up and we will still have a full pep rally honoring Volleyball, FFA, and JH football! Go Wildcats!

ATTENTION: WE WILL PLAY MINEOLA IN A VARSITY FOOTBALL GAME TONIGHT, THURSDAY, SEPTEMBER 20, 2018, INSTEAD OF FRIDAY NIGHT! THE JUNIOR HIGH GAMES HAVE BEEN CANCELLED FOR THIS EVENING AND VARSITY WILL PLAY TONIGHT INSTEAD! THIS IS IN RESPONSE TO SO MANY STORM AND RAIN CHANCES FOR TOMORROW NIGHT! THE VARSITY FOOTBALL GAME WILL BE TONIGHT, THURSDAY, SEPTEMBER 20, 2018, AT 7:30 PM, IN MINEOLA! BAND AND CHEER WILL ALSO BE PERFORMING THIS EVENING! GO WILDCATS!

🚨🚨 T-SHIRT 🚨🚨 This year's Big Sandy FFA Officer Team designed the chapter t-shirt. This year they will be maroon with cream lettering! They are $10 to parents, faculty, staff, friends family or community members. Even better, they will be made in our very own Big Sandy ISD Print Shop!! Please email Mrs. Davidson if you would like to purchase.
ddavidson@bigsandyisd.org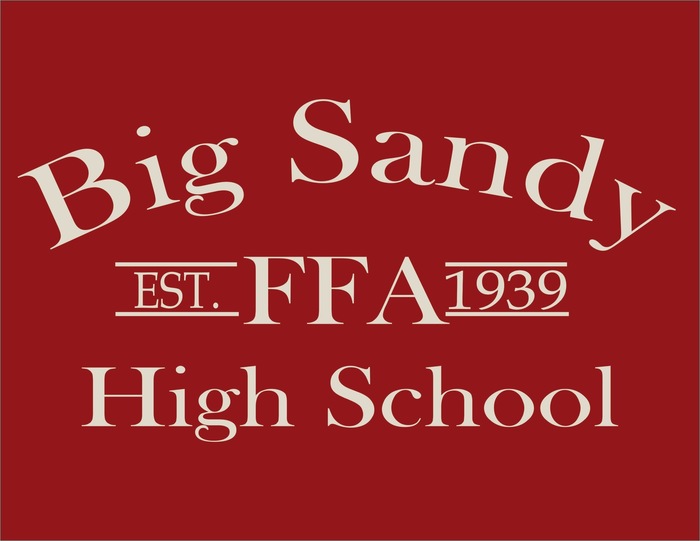 Attention Big Sandy High School Juniors: A message from Balfour.... Important information needed today to reserve your 2020 cap & gown! Go to mygradinfo.com and complete the form by 9pm today.

Ladycats and Wildcats in action all week: 9/17- JH Volleyball vs Linden-Kildare @ 4:30 (Home) 9/18- HS Volleyball vs Hawkins @5:00 (Home) 9/20- JH Football vs Mineola @ 5:00 (Away) 9/21- HS Volleyball vs Union Hill @ 4:30 (Home) 9/21- HS Football vs Mineola @7:30 (Away) 9/22- JH and HS Cross Country in Hawkins Meet Come out and support ALL of our Ladycats and Wildcats! Go Ladycats! And Go Wildcats!

Hey Big Sandy: Volleyball plays in Union Grove starting at 4:30 pm! Football, Band, and Cheer kick off at 7:30 pm vs the Timpson Bears at HOME! Go Wildcats!

Attention: JH Volleyball plays in Leverett's Chapel, starting at 5:00 pm. The schedule says Linden-Kildare, but the games are in Leverett's Chapel! Go Ladycats!

Reminder that JV Football will play Alba-Golden at HOME this evening, Thursday, at 6:00 pm. Also, The Ladycats begin Volleyball District play tomorrow night at Leveretts Chapel, starting at 4:30 pm. There is only a Varsity match. Also, on Friday evening, the Wildcats will play Alba-Golden, at Alba-Golden, starting at 7:30 pm. Go Wildcats!

Wildcat Football TONIGHT (Yes, it's Thursday night) in Beckville vs San Augustine at 7:30 pm! Band and Cheer will be in attendance and performing as well! Go Wildcats!

Hey Big Sandy: Starting on Monday, August 27th, after student drop-off is complete and school has begun, our outside doors will automatically lock down (8:00 am). The outside doors of our school buildings will all remain locked, all day. If you need to come into an office area (Elementary, Junior High, or High School), please use the call button, which is located on a bright silver box, to the right of every main entrance door. You will also notice a camera inside this box. Once you hit this call button, a front desk staff member will answer you, and you can check in with them by speaking directly to them, as they can allow you access to the office areas. This is a new feature, and one that we know will allow us to keep our buildings more safe, by not allowing anyone to simply walk all the way into our office areas, without our knowledge. This, in turn, allows us to help keep our children safer. Thank you for working with us, as we have worked diligently this summer to increase security awareness and infrastructure on all of our campuses and inside all of our buildings. Also, please be reminded that if you see a State Trooper's patrol cruiser parked at the school, we have been assigned 3 State Troopers that will frequently stop to visit our schools to help ensure the utmost safety of all of our school students and personnel. Go Wildcats!