Hear ye, Hear ye: Varsity Game is TONIGHT, however the pep rally IS STILL ON FOR TOMORROW!!!!! Plan to dress up and we will still have a full pep rally honoring Volleyball, FFA, and JH football! Go Wildcats!

ATTENTION: WE WILL PLAY MINEOLA IN A VARSITY FOOTBALL GAME TONIGHT, THURSDAY, SEPTEMBER 20, 2018, INSTEAD OF FRIDAY NIGHT! THE JUNIOR HIGH GAMES HAVE BEEN CANCELLED FOR THIS EVENING AND VARSITY WILL PLAY TONIGHT INSTEAD! THIS IS IN RESPONSE TO SO MANY STORM AND RAIN CHANCES FOR TOMORROW NIGHT! THE VARSITY FOOTBALL GAME WILL BE TONIGHT, THURSDAY, SEPTEMBER 20, 2018, AT 7:30 PM, IN MINEOLA! BAND AND CHEER WILL ALSO BE PERFORMING THIS EVENING! GO WILDCATS!

🚨🚨 T-SHIRT 🚨🚨 This year's Big Sandy FFA Officer Team designed the chapter t-shirt. This year they will be maroon with cream lettering! They are $10 to parents, faculty, staff, friends family or community members. Even better, they will be made in our very own Big Sandy ISD Print Shop!! Please email Mrs. Davidson if you would like to purchase.
ddavidson@bigsandyisd.org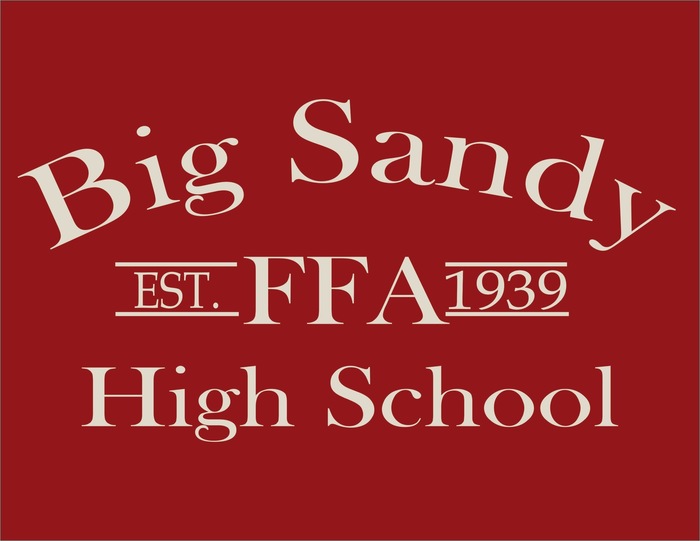 Attention Big Sandy High School Juniors: A message from Balfour.... Important information needed today to reserve your 2020 cap & gown! Go to mygradinfo.com and complete the form by 9pm today.

Ladycats and Wildcats in action all week: 9/17- JH Volleyball vs Linden-Kildare @ 4:30 (Home) 9/18- HS Volleyball vs Hawkins @5:00 (Home) 9/20- JH Football vs Mineola @ 5:00 (Away) 9/21- HS Volleyball vs Union Hill @ 4:30 (Home) 9/21- HS Football vs Mineola @7:30 (Away) 9/22- JH and HS Cross Country in Hawkins Meet Come out and support ALL of our Ladycats and Wildcats! Go Ladycats! And Go Wildcats!

Hey Big Sandy: Volleyball plays in Union Grove starting at 4:30 pm! Football, Band, and Cheer kick off at 7:30 pm vs the Timpson Bears at HOME! Go Wildcats!

Attention: JH Volleyball plays in Leverett's Chapel, starting at 5:00 pm. The schedule says Linden-Kildare, but the games are in Leverett's Chapel! Go Ladycats!

Reminder that JV Football will play Alba-Golden at HOME this evening, Thursday, at 6:00 pm. Also, The Ladycats begin Volleyball District play tomorrow night at Leveretts Chapel, starting at 4:30 pm. There is only a Varsity match. Also, on Friday evening, the Wildcats will play Alba-Golden, at Alba-Golden, starting at 7:30 pm. Go Wildcats!

Wildcat Football TONIGHT (Yes, it's Thursday night) in Beckville vs San Augustine at 7:30 pm! Band and Cheer will be in attendance and performing as well! Go Wildcats!

Hey Big Sandy: Starting on Monday, August 27th, after student drop-off is complete and school has begun, our outside doors will automatically lock down (8:00 am). The outside doors of our school buildings will all remain locked, all day. If you need to come into an office area (Elementary, Junior High, or High School), please use the call button, which is located on a bright silver box, to the right of every main entrance door. You will also notice a camera inside this box. Once you hit this call button, a front desk staff member will answer you, and you can check in with them by speaking directly to them, as they can allow you access to the office areas. This is a new feature, and one that we know will allow us to keep our buildings more safe, by not allowing anyone to simply walk all the way into our office areas, without our knowledge. This, in turn, allows us to help keep our children safer. Thank you for working with us, as we have worked diligently this summer to increase security awareness and infrastructure on all of our campuses and inside all of our buildings. Also, please be reminded that if you see a State Trooper's patrol cruiser parked at the school, we have been assigned 3 State Troopers that will frequently stop to visit our schools to help ensure the utmost safety of all of our school students and personnel. Go Wildcats!

If you have Elementary students and are bringing supplies to the school, please bring them tonight to Meet the Teacher, if you have them, so that teachers can get them checked in tomorrow. Thank you! Go Wildcats!

Please remember that Aurora Concepts will be available during Meet the Teacher, offering School Immunizations for everyone that needs school immunizations, at no cost to you. They will be available on Thursday, August 23rd, from 4:00 pm to 6:00 pm, during Meet the Teacher. For more information, please contact our School Nurse, Mrs. Susan Williams at 903-636-5287 ext. 229 or at by email at
swilliams@bigsandyisd.net
.

Attention Big Sandy 6th Graders and Parents: 6th Grade Orientation is tonight, Tuesday, August 14th, 2018, at 6:30 pm, in the Cafeteria. This is for ALL incoming 6th grade students! Come pick up your schedules, take a campus tour, complete all registration paperwork, and learn about student life in Junior High School! Go Wildcats!

Don't forget about Freshmen Orientation tonight, Monday, August 13, 2018, at 6:30 pm. The Orientation will be held in the Cafeteria. See you there!

Hey Big Sandy Parents/Guardians/Students: Registration Packets are ready for pick up in the JH and HS offices. If you have access to Student Grades, you can fill some of the packet out there but will need to pick up additional required forms in the office to complete. All registration information must be completed and proof of residency provided before student schedules can be picked up. Offices are open from 8:00 am to 4:00 pm and Ms. Elliff will be in the HS office late on: ---Aug 8th& 9th till 5:30 ---Aug 13th & 14th till 5:30 ---Aug 15th till 6:00 Schedule pickup for grades 7-8 on Aug 13th Schedule pickup for grades 10-12 on Aug 15th Remember all paperwork and proof of residency must be turned in before the date of schedule pickup. Also: ---Freshman Orientation Aug 13, 6:30pm ---6th Grade Reception Aug 14th 6:30 pm Elementary Offices will be open from 8:00 am – 3:00 pm Monday – Friday August 13-17, 2018 to pick up and fill out registration packets and turn in. If you have access to Student Grades, you can fill some of the packet out there but will need to pick up additional required forms in the office to complete You must bring a current utility bill as proof of residency with your paperwork. Don't forget: ---Meet the Teacher Aug 23rd 4:00-6:00 pm ---Meet the Wildcats Aug 23rd 6:00pm ---Kona Ice will be here, so that you can purchase a snow cone cup and help beat the heat! Go Wildcats!

Be sure to check out our Facebook page for exciting news about the Elementary! Go Wildcats!

Please join us in welcoming Kim Stradley as our Secondary Principal for grades 6-12! She will do an amazing job!

Regional Track leaves today, Thursday, April 26th, for Springtown! Let's wish them good luck for tomorrow and Saturday! Go Wildcat Track!